The Pride Youth Program offers social, support, and leadership programming for more than 250 LGBTQ+ youth ages 4-24 and their families from across Chicago's northern suburbs. Our prideCONNECT, prideSUPPORT, and prideLEAD programs offer a variety of opportunities for lesbian, gay, bisexual, and/or transgender youth, and youth who are questioning their sexual and/or gender identities to build relationships, get support, and lead their communities. The Pride Youth Program is guided by our core values: inclusion, hope, non-punitive accountability, partnership, and responsiveness.
prideCONNECT connects youth and families with each other and external resources through large and small events, such as movie nights, open mics, campfires, and guest speakers. These fun events offer opportunities to create new friendships and relationships with supportive adults.
prideSUPPORT includes all of our weekly peer support groups, which create safe and confidential spaces for youth to build community, discuss challenges, and feel supported by others. Facilitated by Pride Youth Program staff, group offerings are responsive to the needs of our community and change based on requests. Check out the prideSUPPORT groups we are currently offering virtually for youth in grades 3-12.
prideLEAD is our youth leadership program for up to 18 LGBTQ+ high school students. Youth Leaders apply, interview, and commit to a year-long program in which they build leadership skills for college, career, and beyond. Collaborating with staff and volunteers, Youth Leaders work in teams to plan and lead social and service activities and create educational materials for other youth and adults about LGBTQ+ identities, experiences, and allyship.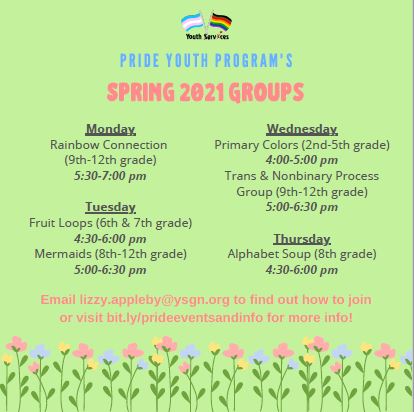 If you are interested in more information, please email Lizzy.Appleby@ysgn.org. You can also find the most up-to-date information about current events, groups, and opportunities for LGBTQ+ youth and families online here.
Any interested youth or families can reach out to Lizzy Appleby, she/her, Program Manager at Lizzy.Appleby@ysgn.org or 847.724.2620 x121.