It's Spring! And that means it is time for our most important fundraising event season at Youth Services.
What to do for the second year of events in a pandemic? We're hosting a non-event month!
No need to log into Zoom (we know you are Zoom'ed out)! Wear whatever you want! Join from your bed or your couch or outside in the sunshine! This is a chance to bring together our community in whatever way YOU choose!
How can you support our efforts to raise the $170,000 the agency relies on to reach our budget?
Virtual Spring Gala Opportunities: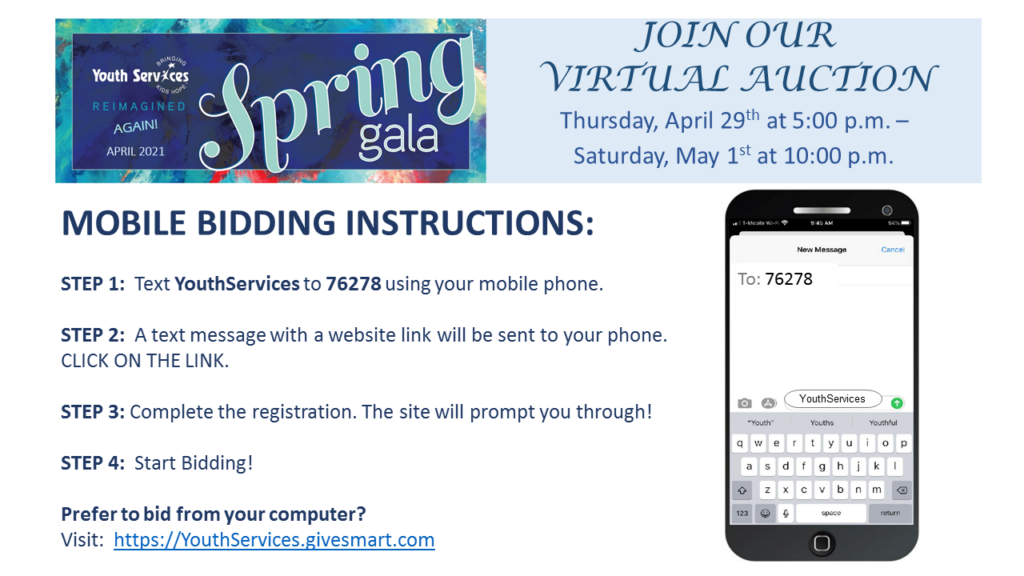 We have all of the fun pieces of our popular Spring Gala. It's up to you how you want to participate! And your participation has NEVER been more important. The demand increases week after week as Youth Services faces longer waitlists than ever before. Your donation will help in our efforts on bringing in additional clinical support to meet the needs of our community – and continue in our promise that no one will ever be turned away based on ability to pay.
Check back often as we continue to share more opportunities to get involved and make a difference.
---
Special Thanks to our 2021 Spring Gala Sponsors!
EVENT PRODUCTION SPONSOR

SPECIAL THANKS TO OUR PRINT SPONSOR

$15,000+ EVENT SPONSORS
SCOTT & BETH BRADY
$10,000-$14,999 EVENT SPONSORS
THE BALESTRIERI FAMILY
JOHN & CATHIE ESTEY
DOUG & LAURA WELCH
$5,000-$9,999 EVENT SPONSORS
HOWARD & DEBBIE EIRINBERG
RICK GOLDMAN
JERRY & JULIE KANE
GLENN & CHRISTINE KELLY

$2,500-$4,999 EVENT SPONSORS
JIM & PAM BUCHHOLZ
STEVE KOLTUN
JOHN & BETH SCHMIDT
$1,000 – $2,499 EVENT SPONSORS
MICHAEL & SANDY BRENNAN
MIKE & BARB CABAY
MELANIE COON
BILL GRADY
JOHN HOWARD
KAREN MAY
NANCY MACDOUGALL
MARGARET MIDDLETON
KATHLEEN MURPHY
SCOTT & JENNIFER NELSON
KRISTEN OLSON
THOMAS NEUCKRANZ
PROLOGIS FOUNDATION
$500 – $999 EVENT SPONSORS
SAMUEL W ACH
KARA CLARK
RICHARD & JOYCE HIRSCH
RICHARD & JOANNE LARSON
SUSAN LOUGHRAN
CANDACE & RICK PULLANO
SUZANNE RYAN
BILL & CLARE SULLIVAN
ALLAN & MARILYN TE RONDE
---
Special Thanks to our 2021 Spring Gala Committee
Lisa Anastasia, Chair
Pam Buchholz
Julia Estus
Kim Kiraly
Lisa Hanneman
Tracy Lande
Susan Loughran
Andrea Miller
Erin Miller
Karen Paige
Tonya Wheeler